Somalia the focus as Trócaire launches annual campaign.
The annual Trócaire Lenten Appeal has been launched, with a focus on millions of people facing hunger in Somalia, where a protracted drought in the east African country has left almost half the population at risk of starvation.
This year marks the 50th anniversary of the fundraising campaign.
Over those five decades, the Trócaire Box has become one of the most identifiable charity collection methods in Ireland.
The cardboard boxes, distributed to homes across the country, have raised millions for the world's poor.
The charity was established by Catholic bishops in 1973, to respond to famine and flooding in Bangladesh.
The initial campaign raised £250,000 and started a long-running bond between the public and the organisation.
Trócaire CEO Caoimhe de Barra said the generosity of Irish people has resulted in positive change to a huge number of lives over the last 50 years.
She said this "unyielding solidarity" has helped individuals, families and communities in countries at risk of conflict, climate change and poverty.
The organisation has worked to promote human rights in Latin America; assisted famine relief work in Africa and helped victims of the Asian tsunami of 2004.
More recently, it has focused on the effects of climate change and the impact it has in several parts of the world.
It also works as part of a global network to provide humanitarian relief in the aftermath of events like the recent earthquake in Turkey and Syria.
This year's collection box features a Somali family who have had to flee their home due to the ongoing drought there.
They are the latest in a long line of people whose stories have resonated with the Irish public, in the lead up to Easter each year.
Among them is Josiane Umumarashavu, who was featured on the 2004 Trócaire box.
She was photographed skipping near her home in Rwanda, as her family came to terms with the aftermath of the genocide there.
It had resulted in the death of Ms Umumarashavu's father, sister and two brothers a decade earlier.
The image of the 12-year-old girl featured on over one million collection boxes.
As a direct result of the donations that followed, Trócaire was able to assist the Umumarashavu family in securing education and growing crops.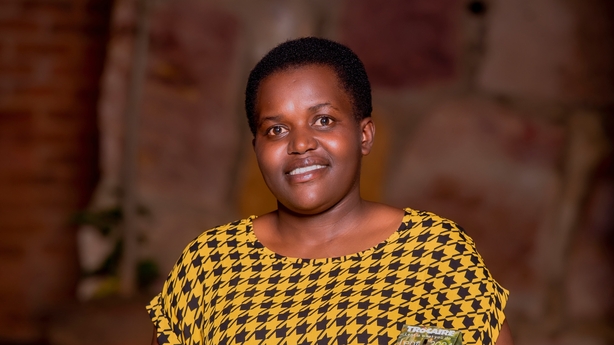 Now, 19 years later, Josaine Umumarashavu is married with two children and works for Trócaire in Rwanda as a finance assistant.
She said the support provided by Irish donations changed her life irrevocably and that without it, things might have been very different.
The 31-year-old said she is proof of the transformation that collected loose change can bring.
"It is a lifeline to millions of the world's poorest and most vulnerable people.
I was so blessed to have your support, it is something I will never take for granted," she said.
.